Adel's Thought Provoking Series Featured at the Inaugural Edition of Virtual Papier and on the AR Collecting app from June 4 to 21, 2020
During this unique point in human history, artists, gallerists and institutions have all been striving to find innovative approaches to keep people connected to art without putting them at risk. Many galleries and museums suddenly found incentive to showcase art in the virtual realm. In an effort to present artworks in a way that ensures a safe and unique experience for art enthusiasts, The Contemporary Art Galleries Association (AGAC) has decided to launch Montréal's annual Papier art fair digitally this year.
This exquisite online experience features a wide arrange of renowned artists to highlight their diverse artistic visions in one place. Adel Bentounsi, one of Marsoum's very first members, will be represented in the fair in coordination between Marsoum Art Collective's founder Abdulah S Al-Ghoul, Paris-based Algerian artist Adel Bentounsi and Vancouver-based gallery owner Monica Reyes. 
About The Inaugural Edition of Virtual Papier
Papier is Montréal's biggest art fair and a key driver on the Canadian contemporary art scene. Since its launch in 2007 by AGAC (The Contemporary Art Galleries Association), the fair has successfully served as a lively and coherent meeting ground for art enthusiasts, galleries, and professionals from across the world. True to its name, Papier ("paper" in French) was originally dedicated to only featuring art on paper. In latter years, it has expanded on that vision to encompass other medium categories. Papier usually occurs in April and takes place at the awe-inspiring Grand Quai du Port de Montréal.
This year, the sensational art fair will be held on the Papier website (papiermontreal.com) from June 4 to 21. Viewers can discover, ponder and collect a wide range of contemporary art pieces by navigating through different galleries' areas, which are designed to pay homage to the floor plan aesthetic that one usually finds alongside the fair brochure or visit guide. Participants can also take part in the usual educational activities that the fair offers, alongside other virtual seminars such as a nine-panel discussions where critics, researchers, and artists will discuss and share their perspective on the current issues that contemporary art world faces.
The virtual fair is also being accompanied by an inventive augmented reality (AR) experience through an exciting new mobile app that goes by the name of "Collecting".
The Collecting App - An Experiment in Augmented Reality (AR) for Art Collectors
Leading up to the fair's launch, The Contemporary Art Galleries Association (AGAC) unveiled its most recent project: Collecting—the App, an augmented reality application featuring all works being showcased at Virtual Papier. Collecting—the App was developed in collaboration with Dpt., a Montreal-based design and development studio. The app is an ambitious and unique digital initiative, making it the first application of its kind in Canada to present a large catalogue of artworks accessible in augmented reality.

Collecting—the App already features close to 1,000 works of contemporary art available for purchase and from more than 40 Canadian galleries. Designed for art lovers from all walks of life, the application uses innovative technology as a tool to inspire those who aspire to live with contemporary art on a daily basis.
About Adel Bentounsi and The Series "In Between The Lines / Entre Les Lignes"
Paris-based Algerian artist Adel Bentounsi is fascinated by bringing existential and moral ideas together in his work, regardless of the medium he ends up employing. Through his art, Adel asks powerful questions in relation to politics, religion, and the environment. His mediums are ever-changing as he takes us on interdisciplinary journey with a diverse set of media, including photography, video art, performance, painting, and drawing. 
"In Between The Lines" is a 2018 body of work that is being partially featured in the first-ever virtual edition of Papier Art Fair, and mirrored with the entire body of work exclusively on marsoum.co's online exhibition section. The series consists of nine seemingly simple yet precise ink drawings on archival paper adorned with bursts of genuine gold and silver leaf. In subject matter terms, "In Between The Lines" ponders delicate and sensitive situations that depict the human condition in some of its rawest forms. These artwork urge viewers to contemplate their own existence, relationships and societal roles.  
Adel explains the overarching theme of this series as follows: "The objective of this body of work is to unveil our inability to see things as they truly are and to speak to the boundaries that separate us, such as borders, horizons, the unknown and those lines that drag us". He elaborates by stating that "it is precisely with these lines that I strive to highlight a balance and a realization of our own limits".
How It All Started - A Serendipitous Encounter in Beirut, And The Rest Is History
Adel is one of the original members of Marsoum Art Collective. Our paths crossed with Adel's when Marsoum Art Collective founder Abdulah met Adel while representing another artist for Dar Al-Anda Art Gallery at the emerging talent section of the 2016 Beirut Art Fair. Adel went on to be represented in Jordan and the Levant region by Dar Al-Anda. When the Marsoum Art Collective launched in 2018, Adel was among its very first members. In July 2019, a few of the artworks from "In Between The Lines" by Adel was featured in our first ever live exhibition, which took place at Mónica Reyes Gallery in Vancouver, BC, Canada. 
The Marsoum Art Collective was borne of a desire to break the cultural barriers and unify artists from across the world and from different cultural backgrounds under the roof of art. We saw a fulfillment of that desire Galley through the groundbreaking group exhibition "Too Far, So Close" and are joining forces again as we co-present Adel Bentounsi at the 2020 online edition of Montréal seminal art fair, Papier.
Experience "In Between The Lines" Your Way, Or All Three of Them.
The "In Between The Lines" series is on view at Virtual Papier art fair from June 4th until June 21st, 2020. You can examine and explore this captivating series by participating in this year's online experience on the fair's website, by projecting a couple of them on your wall through the companion AR app, or by visiting our exhibition page.
In tandem with the Collecting App and the Papier website, we are exhibiting all nine artworks that make up the In Between The Lines series here on marsoum.co. This page features an exclusive video, "At Home with Adel Bentounsi" in which Adel talks about himself, his style and media, as well as this body of work and its relevance to his life experience.
This app is available on Apple's App Store and Google's Play Store and features three of all nine artworks in Adel's In Between The Lines series.
Head over to Virtual Papier's web portal to begin your virtual visit https://www.papiermontreal.com/en/visit/ where you can interact with over 40 Canadian and international galleries that are partaking in the virtual fair.
Co-Written by: Zaina Abuhammour and Abdulah Al-Ghoul
Zaina is a freelance copywriter and a lifelong learner. Two of her great passions in life are writing and storytelling.
Through her work, she seeks to tell stories that captivate and inspire people. When she isn't busy freelance writing, you can find her somewhere toiling away at her own fiction writing.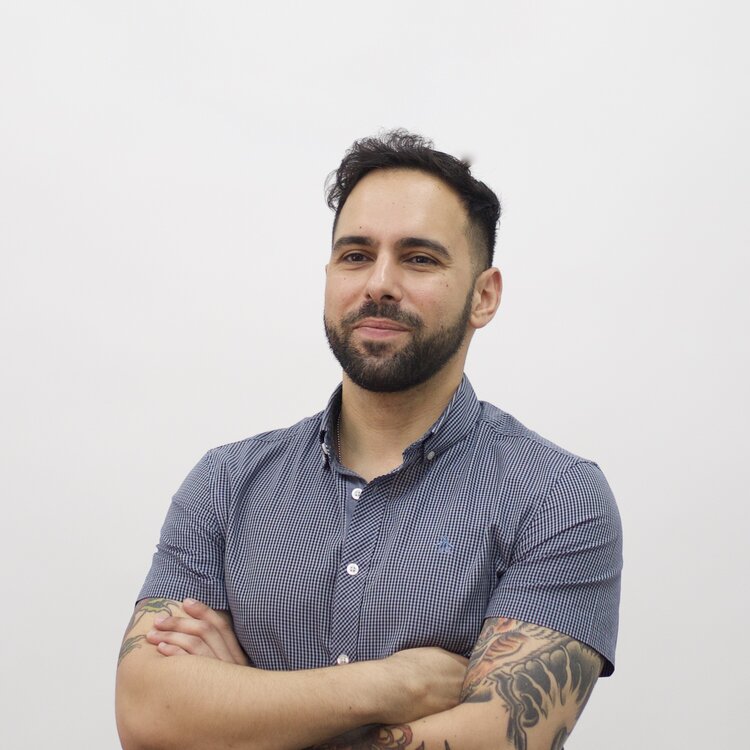 Abdulah Al-Ghoul is a digital project manager and strategist with a background in several industries including hospitality, fine arts and marketing.
Abdulah founded the Marsoum Art Collective in 2018.
---