Originally Published: February 15, 2020
The journey of art collecting is fun, but it can sometimes be a challenging one if you're just getting started. As art collectors, we often search for items that speak to us, reflect our personality, and show our devotion toward the artwork, even in its simplicity. We can be keen on what we choose to display, and how to display it. With that being said, an art collector is well aware that the frame is almost always a part of the art itself. 
A delicately chosen frame highlights and draws attention to the artwork, but framing can be an overwhelming and expensive process. Custom framing sometimes comes along with a price tag that definitely doesn't fit our budget. To make life a little bit easier, we tracked down the best five ways to hack overpriced custom-framing. Continue reading the latest entry in the Collector's Handbook series to find out how you can frame your art to perfection without breaking the bank. 
Thrift stores can be a gold mine for collectors who are looking for a vintage one-of-a-kind type of frames. You can find tons of second-hand ornate and gilded frames in all different sizes, shapes, and colours lying on the shelves for next to nearly nothing. When you are thrifting for picture frames, don't pay attention to what's inside it, focus on finding well-made frames that complete your artwork and provide context to it. Once you've laid your eyes on something you like, check for any scratches or dents, and make sure that the glass is in good shape, then flip the frame and check the back to see if it can be easily dismantled so you can swap out the art without grappling. 
And if you're a canny thrifter, making an old wooden frame looks interesting won't require much effort. Whether it's raw wood, matte, or painted, you can refurbish the frame by sanding it to create a smooth and crisp surface for painting, then add a coat or two of a good quality spray paint in a color that suits your art (black paint works well with almost any piece of art, it doesn't look cheap, and it hides the flaws superbly).
Tip: while you are thrifting, you might consider not buying metal or ceramic frames since it's difficult to refinish them, and adding hanging hardware to them can be hard. 
#2: DIY Framing  
There are no doubts that hiring an expert to frame your art will give you rewarding results. But don't completely rule out DIY framing; it has its own type of satisfaction, besides being a cost-effective option. DIY framing it gives you the complete freedom of choice in the matter of uniqueness and authenticity. It's also a creative and fun process; so you can look at it as a win-win situation. 
There are a few things you might to want to take into consideration when going down the DIY framing path: 
Choose Plexiglas instead of real glass as a practicality and affordability winner, it's much more lightweight, doesn't break, offers UV protection, and it reduces infrared damage. 
Use mat boards to emphasize and draw attention to your artwork. This works especially well if it's a photograph, watercolour painting, or drawing. Mats come in three main types: paper, rag, and alpha-cellulose. An acid-free paper mat board tends to be the most popular and affordable option; it costs between $5 - $30, depending on the size of the artwork. If you want to highlight your artwork even more, a coloured mat might do the trick; You can choose a colour that provides a sense of continuity between the artwork and the mat. However, you may want to start by using a neutral colour such as black or white since they go with almost everything.
Tools and supplies will require some research and consulting to decide what are the things you need; all of this differs based on what you will get as ready-made and what you will do on your own. Buying these tools might cost you extra money, but once you're done framing a bunch of pieces, you will start looking at it as a successful long-term investment. 
To proceed with the DIY process, follow these steps: 
Shop through your attic for some old frames or use a thrift store vintage frame that suits your art in the appearance and size, and check if the frame's glass is in good shape

Tip: if your frame doesn't have glass, get a custom made piece at your local framing store; it will cost you around $4 to $5.       

Once your glass is cleaned and installed into the frame, start cutting your mat to outer dimensions that fit inside your frame by using a mat cutter 

Or have a custom mat cut from a framing or craft store for around $10. 

Place your print on top of the mat board using archival artist's tape or photo corners

Put your matted print inside the frame.
Floating is another inexpensive alternative to traditional framing. It's when your art is centred in the middle of two pieces of glass or plexiglass. Floating frames creates an interesting visual detail that turns your artwork into a multi-dimensional showpiece. 
You can float an artwork using a few easy steps:
Cut two panes of glass into the same size

place your picture on top of the first pane using double-sided tape

then sandwich the photo with the second pane of glass 

(measure the picture's distance from the frame's edges and make sure all sides are even),

Place the glass into the frame. 

Secure the backing. 

And your floating frame is ready!
#4: Think outside the frame
Your artwork doesn't always have to be displayed inside wood and glass. Some pieces are meant to be unframed. A gallery wrapped canvas is an utterly frame-free option to display your art. Gallery wrapping is when the painting is stretched onto a stretcher bar and folded neatly to the back. This method will create a three-dimensional look that adds a sense of casualness to your artwork. A good canvas wrapping might be a little pricey, but it is still much cheaper than custom picture frames. If your new artwork is a print, oil or acrylic on canvas, this would be the obvious, and most affordable choice. 
If you love the frame-free finish, block mounting is another frameless option that you can try. It's the process of mounting your artwork on a sturdy and durable backing frame. Block mount boards can be made from wooden MDF (medium density fibreboard), or foam. This borderless style will give you a beautifully finished work of art!
#5: Shop around for affordable readymade frames
Pre-made frames are everywhere; online, store departments, crafts stores, you name it. To find picture frames that suit your budget, we tracked down the ultimate short-list of affordable framing sources that can give you gallery wall worthy frames.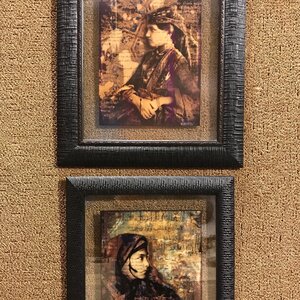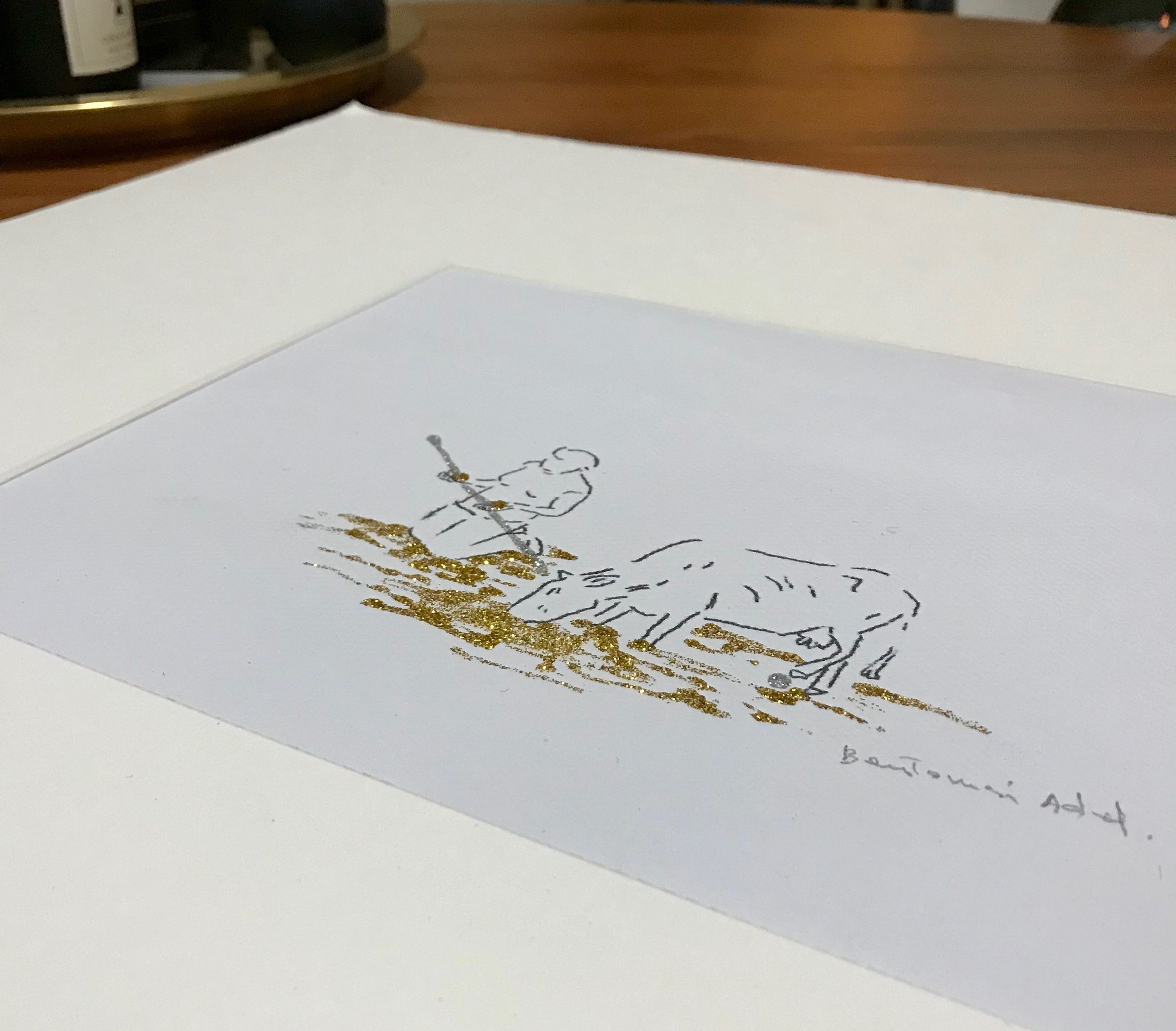 Ikea: hands down, Ikea picture frames are the most practical-affordable source for framing. With hundreds of styles that vary from simple to unique and decorative, you're bound to find something that you like. The infamous Ikea Ribba Frame gives you a simple and minimalist look for a marked-down price that starts at $3.99. 
Umbra: Umbra's frame collection contains a lot of designs that offer you to affordably display your art in a modern way. For instance, Umbra's Glo Frame gives you a type of uniqueness that sets it aside from frames at the same price range. This frame truly glows if you are displaying small or a double-sided art pieces (just like Ghadeer Saeed's prints). The Umbra Glo Frame showcases your small artwork in a contemporary and graceful way.
CB2: if you are on a hunt for something on the simple and chic side, CB2's Gallery Frame series might just be what you are after. This astonishing frame collection comes in sizes that vary from 4" X6" till 18" X24" and features several finishes (our favourite is the aluminum frame with a matte white finish that adds an elegant flair to the frame akin to what a lot of galleries use these days). You can display artwork in this frame in either landscape or portrait style, it even comes in . This series is an excellent choice for any space where you want to add an affordable but professional-looking gallery-wall.

Framebridge: Framebridge makes frames that are filled with personality. The site offers unique and high-quality custom built designs for every single frame. Skim through walnut wood and fluted gold frames, paired with matting and hanging necessities, you'll love them! You can mail-in any type of object that's under 32" X 40" or upload a photo to print, and wait for your custom frame to be ready. With prices that start at $39 Framebridge differently is the first in class of affordable custom frames online.
How good is your frame game?
We'd love see what you've done with your artworks to elevate their frame game. Tag us on Instagram with #WeAreMarsoum or send us a photo at ishi@marsoum.co to be featured!
Written by: Zaina Abuhammour
Zaina is a freelance copywriter and a lifelong learner. Two of her great passions in life are writing and storytelling.
Through her work, she seeks to tell stories that captivate and inspire people. When she isn't busy freelance writing, you can find her somewhere toiling away at her own fiction writing. 
---